GAWAD KALINGA & OTHER ADVOCACIES
Gawad Kalinga (GK) is recognized globally as a world-class Filipino movement for nation building that has built close to 2000 beautiful and thriving communities for the poorest of the poor.

currently employs Gawad Kalinga residents providing fair wages and decent working conditions. Furthermore, it is our vision that as soon as GK villages are capable of producing our ingredients to the highest standards, we will equip and empower them to grow and process what we need for the
range.

We are also proud to source some of our essential oils from local farmer cooperatives around the Philippines. The Philippine Federation for Environmental Concern (PFEC) is a cooperative of 60 farmers from Bicol who supply us with organic Citronella oil. Our organic Lemongrass essential oil, in turn, is provided by the beneficiaries of Alternative Indigenous Development Foundation Inc. (AID FI) in Negros Occidental. AIDFI provides solar and hydropower to remote rural communities who otherwise will not have access to electricity.
Through our partnerships with these noble organizations, we hope to bring sustainable technology to our Gawad Kalinga communities. We have begun work in a pilot farm in a GK community in Bulacan, a province in the northern part of the Philippines.

Through our partnership with GK, we hope that there will soon be hundreds of world-class community organic farms in the Philippines providing livelihood for thousands of our poorest people.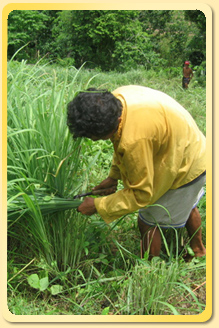 THE PHILIPPINE FEDERATION FOR ENVIRONMENTAL CONCERN
Human Heart Nature's commitment in developing our country side and helping marginalized farmers is strengthened by partners who share the same vision.

Our Citronella Oil, which is used in our best-selling bug spray, comes from the province of Camarines Norte through the Philippine Federation of Environmental Concern. PFEC works directly with the farmers of KMMBK (Kooperatiba ng mga Maliliit na Mangniniyog ng baranggay Kanapawan) on the hills of Barangay Kanapawan in the Municipality of Labo. The 68 member farmers of KMBBK were dependent on the Copra industry which could barely support their individual family needs.

PFEC sought to develop an alternative crop that is complimentary to their existing coconut plantation which at the same time could deliver a higher economic yield. Citronella was introduced in their area in the late 90's and PFEC capitalized on this opportunity by linking experts to develop their community's capabilities for oil extraction and marketing their finished products. PFEC is currently operating 3 essential oil extractors (steam distillation) on-site and is training KMMBK to manage their 11-hectare farmland to maximize Citronella growth and extraction.

For more information regarding PFEC and KMMBK please visit www.environmentalfederation.com or you contact Kath Ramilo (Enterprise Development Officer) at (632) 9420481.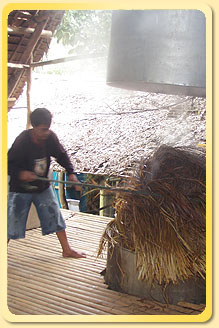 THE AID FOUNDATION, INC.
The Alternative Indigenous Development Foundation, Inc. or AIDFI seeks to develop poor farming communities through the introduction of sustainable agri-technology. Human Heart Nature's lemongrass oil and hydrosol comes from the province of Negros Occidental through one of their assisted farming communities which was initially dependent on sugar cane.

As a plantation crop, sugarcane's market price is regulated and thus leaves little profit for their farmers. At the same time, sugar cane farming is one of the most difficult processes, often times exposing farming families to harsh conditions under the sun and carrying heavy loads of sugarcane. This is further made difficult by the fact that sugar cane has only 1 farming cycle annually, further limiting its' economic yield.

For the farmers of Brgy. Bigo in the municipality of Cauayan, they were fortunate that their land was endowed with a local type of lemongrass which contains more oil and hydrosol. AIDFI proudly assists these sugarcane farmers utilize the indigenous type of lemongrass by setting up Solar Panels for community lighting, Water Catchments for a sustainable water source and a Steam Distillation Extractor for extraction of essential oil and hydrosol.

More importantly, part of AIDFI's thrusts is the development of the local farmers own political governance and they have done this through the establishment of the Mambugsay Essential Oil Producers Association (MEOPA). MEOPA currently has 26 member families enjoying the benefits of higher income from lemongrass oil extraction and is undergoing further training in managing their 8 –hectare organic lemongrass farm.

For more information regarding AIDFI, please visit www.aidfi.org.