Race to the Summit: Program Mechanics


1. This dealer incentive program is open to all registered Human Nature Dealers aged 18 years old and above. A registered Human Nature Dealer is one who has submitted complete dealer registration requirements to a Human Nature Branch or Gandang Kalikasan Inc. (GKI) and has been issued a Dealer I.D. Number. There is no other requirement needed for a registered Human Nature Dealer to participate in the program.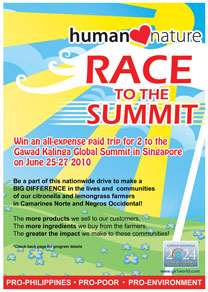 2. The qualifying sales period is from March 1, 2010 to May 31, 2010. Only orders that have been invoiced and paid during the qualifying sales period will be counted. Items that have been ordered but have not been invoiced within the qualifying sales period are not counted.

3. Dealers earn points for every Personal Purchase (not Group Purchase) of the following products for the duration of the qualifying sales period:

Citronella Bug Spray 50ml (1pt)
Citronella Bug Spray 100ml (2pts)
Tomato & Lemongrass Facial Wash 50ml (1pt)
Tomato & Lemongrass Facial Wash 100ml (2pts)
Tomato & Lemongrass Facial Toner 100ml (2pts)
Acapulco Pocket Hand Soap Lemongrass 50ml (1pt)
Acapulco Hand Soap Lemongrass 200ml (4pts)
Extra VCO Massage Oil Lemongrass 100ml (2pts)
Extra VCO Massage Oil Lemongrass 200ml (4pts)

4. Personal purchases of the above products made during the qualifying period are not eligible for return unless due to product manufacturing defect.

5. The dealer with the highest total number of points earned during the qualifying sales period will be judged the winner provided that he/she has recruited at least three (3) new dealers during the 3-month qualifying sales period.

6. There will be two (2) winners: one from Metro Manila and one from the provincial areas (combined Luzon, Visayas and Mindanao). The home address indicated on a dealer's registration form will determine the location of the dealer.

7. GKI through its Branches will be posting the top qualifying dealers in Metro Manila and provincial areas every 20th and 5th of the month for the duration of the qualifying sales period beginning March 20. The list of top qualifying dealers will also be issued out to coincide with the monthly release of the Dealer eNewsletter in March, April and May.

8. Winners will receive the following: FREE round-trip ticket for two (2) to Singapore, twin-sharing hotel accommodations for 3D/2N, S$300 for food, transport & incidentals allowance, registration for two (2) to the GK Global Summit worth S$600. Other incidental expenses in excess of the allowance shall be to the account of the winners.

9. Winners will be notified by GKI in a letter personally signed by the President of GKI through LBC. Winners will also be announced in the Human Nature website, Dealer eNewsletter and through the Human Nature Branches nationwide.

10. Winners must have no past due account(s).

11. Winners will be announced within the 1st week of June 2010.


12. Winners should have a valid passport and will be responsible for processing own passports.

13. As the intention is for the winners to experience the exhilaration of being a part of a GK Global Summit, the prize is not convertible to cash. Prize may be transferrable to an immediate family member in the event that the winner is unable to travel himself/herself. Winners should expect to fly out to Singapore on June 25 (Friday) and fly back to Manila on June 27 (Sunday). Winners who may wish to extend their stay in Singapore shall coordinate directly with the airline and shoulder all additional expenses.

14. Employees of GKI and its Human Nature Branches, including their relatives up to the first degree of consanguinity or affinity are disqualified from participating in this program.

15. Employees of GKI and its Human Nature Branches shall not be held responsible for any untoward incident that may occur enroute to, during and on the way back from the event.


Corporate & Branch Details
For inquiries, contact Gandang Kalikasan, Inc. or your nearest Human Nature branch.

GANDANG KALIKASAN, INC.
463 Commonwealth Avenue, Quezon City 1119.
Tel. (02) 931-5787 Fax No. (02) 951-3627
Email: customer.service@humanheartnature.com

HUMAN NATURE BRANCHES
Metro Manila
Paranaque Branch
Unit SFR09 Santana Grove, 7202 Soreena Drive cor.
Dr. A. Santos Ave., Paranaque
Tel. (02) 828-4572
humanheartnature.paranaque@gmail.com
Quezon City Branch
Unit 9-D Mahinhin Street, UP Village, Q.C.
Tel. (02) 332-7885 and 332-9858
humanheartnature.quezoncity@gmail.com

Luzon
San Fernando (La Union) Branch
Rm 202 Diocesan Center Bldg, San Fernando City, La Union
Tel. (072) 607-0343 / (0919) 840-9000 / (0922) 866-2449
humanheartnature.sanfernando@gmail.com
Laguna Branch
2/F, G Square Plaza, Barleta cor. Malvar St., San Pablo City
Tel. (049) 503-1096 / (0926) 682-8501
humanheartnature.sanpablo@gmail.com
Naga (Bicol) Branch
Unit B-7, 2nd Floor, DMG Bldg, San Francisco, Naga City
Tel. (054) 472-1174 / (054) 811-7756 / (0912) 421-0304 /
(0908) 213-4489
humanheartnature.naga@gmail.com
Palawan Branch
Peneyra Road (beside Mariner's Plaza II), San Pedro,
Puerto Princesa
Tel. (048) 433-2018 / (0905) 398-2519 / (0939) 886-5431
humanheartnature.palawan@gmail.com

Visayas
Tacloban Branch
167 Real St., Tacloban City
Tel. (053) 255-8442
humanheartnature.tacloban@gmail.com
Cebu City Branch
7 Galleria Fuente, Gen. Maxilom Avenue, Cebu City
Tel. (032) 412-9696 / (0922) 836-9898
humanheartnaturevisayas@gmail.com
Lapu-Lapu City Branch
G/F Donalen Bldg., Basak, Lapu-Lapu City, Cebu
Tel. (032) 495-9898 / (0922) 836-9898
humanheartnaturevisayas@gmail.com
Mandaue City Branch
G/F The Orchard Cebu Hotel & Suites, A.S. Fortuna St., Bakilid, Mandaue City, Cebu
Tel. (032) 512-8877 / (0922) 866-1682 / (0917) 322-1853
humanheartnature.mandaue@gmail.com
Iloilo Branch
2/F Jesena Clinic, Jesena Bldg., San Agustin St., Jalandoni,
Iloilo City
Tel. (033) 301-9919 / (0920) 982 8509
humanheartnature.iloilo@gmail.com

Mindanao
Davao Branch
94 4th B St., Ecoland Phase 7, Matina, Davao City
Tel. (082) 244-2012 / (0920) 941-8157/ (0917) 517-0709 /
(0918) 918-6375
humanheartnature.davao@gmail.com
Cagayan de Oro Branch
14 Kassod Ave, Xavier Estates, Cagayan de Oro City
Tel. (088) 8581330 / (0917) 700-4013
humanheartnature.cdo@gmail.com